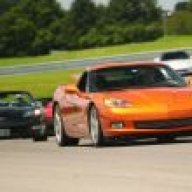 Joined

Sep 24, 2004
Messages

6,547
Location
Corvette

2007 Atomic Orange Coupe
OK I need your opinions.....here's my dilemma...

I priced new tires for 007 yesterday. Michelin AS4 ZP and non RF Continental DWS06.....still torn between RF and non RF.....leaning toward the non. Still have lots of tread on the Firestones, but they are 11 years old. No weather-checking and look like new yet. One of the folks at the tire shop said they would go ahead and run them, but I'm leery about the age. I would hate to be on a trip and have one blow...at that point, I'm forced to buy whatever is available, possibly very limited choices. I guess that can happen with new tires too. WHAT DO YOU GUYS THINK? Keep driving the Firestones? Ditch the Firestones and go RFs? Ditch the Firestones and go non-RFs? Only about $250 difference between the RFs and non-RFs.

Remember guys, I live out in VERY RURAL SW Kansas, not near big cities where tires are readily available.