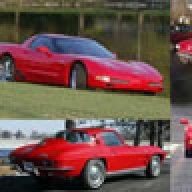 Joined

Oct 11, 2003
Messages

1,895
Location
Corvette

15 Z06, 01 Vert, 63 SWC & 60 ALL RED
Got busy today.....finished up the exhaust on both sides...and then got after the intake...off with the old Edelbrock....
on with the new intake....
Had to take the fuel rails off to get to the bolts to attach the new intake manifold.
The stacks are coming, the original ones got dented in shipping so new ones are on the way...probably a few more weeks for those. The Accel dual output distributor is still 2 weeks out as well. Evidently Accel had a big run on the Chevy version and was backed up.
When I get the new stacks and the distributor in place, I will share some more photos....stay tuned.....
lots more photos at my web site at:
http://public.fotki.com/htmiata/1960_corvette/
449 photos from the beginning to current
regards, Herb
ps, here is the rear end with SS emergency brake cables. They are Corvette on one end (near the pivot) and Explorer on the rear end with the proper clevis to attach to to the emergency brake on the rear backers.