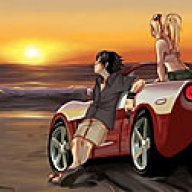 Site Administrator
Staff member
Administrator
Joined

Sep 16, 2000
Messages

13,791
Location
Corvette

1990 Corvette ZR-1
The following isn't technical in nature, but I think it's an awesome story and it is related to the NCRS and Corvette restoration. Enjoy.
From Newsday.com
June 3, 2007
In seashell, echoes of the past
Christina Cantone and Kevin Mackay of Merrick rekindled a love after more than 30 years apart. Christina tells how it happened.

It all started when I was pledging for a sorority my freshman year at Valley Stream South High School in 1972. I had to pen a mushy love letter and send it to someone. I chose classmate Kevin Mackay.

I had a major crush on him and wrote that I adored him. We started dating after that. He was my first boyfriend, and I was his first girlfriend. We were both 15.

Kevin and I would go fishing, ride our bikes, walk home from school together and I'd visit him at the Carvel ice cream stand where he worked.

On Kevin's birthday, I engraved our names on a seashell with the date, 7/12/73. It was a very innocent time and a lot of fun.

One day six months later, Kevin told me we had to break up. His wrestling coach had drilled it into him that he didn't need a girlfriend while he was training for an event. It was too distracting.

I was heartbroken and angry, but in time we again spoke to each other. After graduation, we went our own ways. I married, moved to Florida and later divorced.

Then, in 1998, while I was with friends at a National Corvette Restorers Society event in Orlando, one of them mentioned a very talented Corvette restorer named Kevin Mackay. He was from Long Island.

Realizing it was my first boyfriend, I tried to find him, but he'd already returned to New York. I didn't pursue it any further.

Time flew by, and in 2005 I heard about our 30th high school reunion and signed up on the school's Web site. The next day I received an e-mail titled, "My First Love." It was from Kevin! He, too, was single with no kids.

Kevin came to visit me in Florida that March. When I met him at the airport, he asked, "Do you remember this?" and handed me the seashell I had given him for his 16th birthday. He had kept every letter and little gift I had given him more than 30 years earlier!

We began a long-distance relationship, but I eventually moved back to Long Island and married my first love on April 14, 2007.

Kevin owns Corvette Repair Inc. in Valley Stream. I'm an assistant director with the Sodexho NY Metropolitan Dietetic Internship Program.