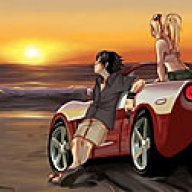 Site Administrator
Staff member
Administrator
Joined

Sep 16, 2000
Messages

13,871
Location
Corvette

1990 Corvette ZR-1
Commack man gets the ride of his dreams
BY SOPHIA CHANG
Newsday Staff Writer
December 30, 2006, 9:27 PM EST
The rumbling noises coming from the street Saturday afternoon weren't quite enough to lure Edward Puletz outside his Commack home.
But urged by his mother, his three children and his wife, Puletz went out the front door, walked down his driveway and watched 32 Corvettes park on his residential, and usually quiet, block.
"Wow," Puletz said, wide-eyed. He rubbed his face and said it again. "Wow."
Puletz, a civil engineer who served in the U.S. Navy during the Gulf War, turned 40 years old today. Last March, he was diagnosed with amyotrophic lateral sclerosis, or Lou Gehrig's disease, a terminal neurodegenerative disease.
So his mother, Irna Puletz, decided to make this birthday special. When she was visiting Puletz over Thanksgiving, she noticed several photos of Corvettes displayed in the garage, next to the family's Toyota and Nissan sedans. She learned that her son had always wanted one of the classic all-American sports cars.
"So I went online and I typed in [a search for] Long Island Corvette clubs," said Puletz, who was in town Saturday from her Florida home as another surprise. "That's when I started talking to this fellow Richie."
Richie Shields, the president of Long Island Vettes of East Meadow, activated his network, with a special call for 1966 Stingrays, Puletz's favorite model because "it was the year I was born," he said.
Saturday afternoon, four Stingrays, 28 other Corvettes and about 50 of the people who love them met at a nearby park before convoying to Puletz's house.
"It's not often we can make somebody's wish come true," Shields told the Corvette owners, who came from his club as well as the Long Island Corvette Owners Association of East Meadow, the Corvette Society of Levittown, and the Metropolitan Chapter of the National Corvette Restorer Society of Smithtown.
"My brother died of the disease," said Marty Fingerhut, 57, of East Moriches, who stood near her 2004 red Corvette. "It's a good thing to do this."
The plan was to allow Puletz to choose his ride and then take him on a drive to Sunken Meadow State Park in Kings Park. Puletz was brought to visit each Corvette and the owners, eager to show off their babies.
"There are only 53 of these with the red seats," said Bill Hermanek, of Smithtown, patting his car, a 1996 Grand Sport convertible in blue and white. Puletz nodded with admiration.
"I've been to a few Corvette shows, but I never thought one would come to my house," he said.
Ultimately, a 1966 Laguna Blue 427 Stingray convertible, owned by Mark Tulley of Carle Place, was the chosen Corvette.
Puletz sat happily in the passenger seat. "Top up?" Tulley asked Puletz to see if he'd like the cloth roof raised during their drive in the winter wind.
"Down," Puletz replied.
Source:
http://www.newsday.com/news/local/longisland/ny-licorv1231,0,5318953.story?coll=ny-linews-headlines