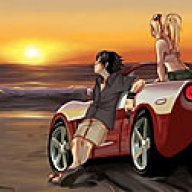 Site Administrator
Staff member
Administrator
Joined

Sep 16, 2000
Messages

13,869
Location
Corvette

1990 Corvette ZR-1
Vette-eran Sports Car Turns Curmudgeon into Convert
by Jim Bray, TechnoFile Magazine
Thursday, October 20, 2005
Okay, I get it. Finally.
I've never been a Corvette fan, at least not since the late 1960s. Though car buffs regularly bow and scrape at the temple of Vette, it always seemed excessive to me, showy and bloated, a brute.
Granted, I had only driven a Vette once during the late 1970s when I had to pick one up from a customer while I was working for a car audio installation place. That trip was about three blocks long, but it helped create my impression of a Corvette that was showy and bloated--and of course back then horsepower was in short supply.
Then Chevrolet gave me a bright "Hey, Look at Me, Officer!" red C6 Corvette convertible for a week.
Wow. Time to haul out those old, relatively uninformed opinions and take another look at them.
The new Corvette is an awesome car. It's incredibly fast, comfortable and well appointed. It's awfully hard to slide behind the wheel of this car and not have a wonderful time. This car is for real.
It's a real attention-getter, too, if that's important to you. Driving the C6 Vette makes you feel like a rock star.
Sure it's brash and brawny--but it doesn't just talk the talk, it walks the walk. Boy, does it ever!
The car was delivered on a Monday, the bright red ragtop's paint glistening even on that cloudy day. I pocketed the key fob (you only need to have it with you to operate the doors and the push button ignition) and slid my posterior into the wonderfully form-fitting leather bucket. Foot on the clutch, shifter in neutral, hand brake on, I pressed the start button.
The Corvette fires up with a rumble that got me fired up as well. It's addictive. Listening to this car sing its song is an aural experience I highly recommend. And it hints broadly at the fun to come when you tromp on the gas pedal.
First observation: it's very difficult maintaining the speed limit in the Corvette. Of course, I have trouble obeying the speed limit in my wife's Corolla, so you can imagine the rush 400 horses and 400 pound feet gives! You can easily exceed most urban streets' posted limits in first gear — and you have five left.
Yikes!
Second observation, made when taking off as sedately as possible (to get a feel for the car before winding it out), was the Vette's comparatively light clutch. Despite the car being the 400 horse gorilla in the muscle car stable, its clutch was much nicer to my left foot than those in both the Ford Mustang GT and Chevy Cobalt SS Supercharged I had driven recently. I don't know if the Vette was just sucking up to me, trying to make a good impression, but the feel of the clutch helped endear the car to me right off the bat.
The transmission, too. The six speed manual shifts nicely, with short throws and good feel. It isn't as immediate as, say, the Miata, and if I had my druthers I'd have moved the shifter a little closer to the dash, but by the time my week with the beast was over I had gotten used to it and was quite satisfied with where it was and how it worked.
One weird thing, though: you have to shift the car into reverse to shut it off completely. If you don't, you're reminded (nagged?) via the driver's info display on the instrument panel.
Even weirder, if you aren't driving the car in as spirited a manner as it deems proper, it forces you to shift directly from first to fourth! The owner's manual says this is meant as a way to save gas, but who the heck buys a Corvette to save gas? Hell, gas was at its most expensive in recent years when I had the Vette and the last thing on my mind was ensuring I got that last little sip out of the tank. C'mon.
On the other hand, the Vette does seem to get reasonable gas mileage for a big V8.
Snicking the shifts up through the gears I left the speed limit behind along with my old opinions of the Corvette! By the time I had it in fourth, I was screaming along at a speed I'm embarrassed to print here lest it be seen as braggadocio.
I could never own a car like this unless I were unconcerned about tickets, points, and loss of license. Especially in urban confines, where you're more limited in your choice of places to wind it out. Perhaps the automatic transmission would be a little more "city-friendly," but who wants a slushbox when you can row a nice 6-speed?
Anyway, it didn't take long for me to be seduced by the Corvette mystique. While the Vette is more of a "hairy chested man's" car than I have been known to like (not being blessed with a terribly tufted trunk), this current in-car-nation will put the hair there for you.
The exterior is all Corvette, but it's shorter than previous editions and, overall, it looks as if it's been to the gym. The flab has been removed to showcase the car's muscles, its (still ample) butt has been tucked and the once trendy pop up headlights have been replaced with flush, high tech projectors that light up the night about as well as you can light up the tires.
These changes don't prevent the Corvette from making a statement, and it still comes across as all Corvette. But now, rather than it being all big brawny bruiser, it manages to tread a fine line between maintaining that masculine mien while simultaneously appearing more, well, exotic. It's a heck of an accomplishment from a styling standpoint.
Likewise, the interior is functional without being gaudy or gadgety. It eschews flash and focuses on driver friendliness and usefulness. And for the most part it succeeds. My only real complaint was that the two sets of buttons (which control such stuff as the driver's information center and the head's up display) that surround the instrument panel are almost completely hidden by the steering wheel. On the upside, they're buttons you probably won't use that much.
The steering wheel feels perfect and features a manual tilt and electrical telescope feature (why not power both?) that, when combined with the innumerable power seat positions, makes finding the perfect driving position easy. You'll find no steering wheel-mounted audio controls, but the cabin is well designed and everything is close at hand so you don't really miss them. Real sports car stuff, this.
The instrument panel is analogue and straightforward, which is just the way I like it. The speedometer reads up to 300 km/h (200 mph), which is a nice promise of the excitement to come. The head's up display is the best I've seen, throwing a digital version of the main instruments up high, closer to your field of vision. Alas, I still hate such displays precisely because they're in the field of vision and I find that distracting. Fortunately, the HUD can be shut off.
The stereo rocks, though it's quite bass heavy and I had to adjust the controls accordingly. But the AM/FM six CD changer works well and is easy to use, except that what should be the volume control is the tuner/adjustment control and the volume control is mounted one level up on the stack. And the positions of the tuning presets and band/adjustment buttons should be swapped for ease of use at speed. This is pretty nit picky stuff, though.
Not so nitpicky are the blind spots created by the soft top. Though not a Corvette exclusivity, since every convertible I've driven recently had the same problem, there's no point in trying to shoulder check before changing lanes when you have the roof up. This wouldn't be so bad if the driver's side mirror were larger or, perhaps, a little more convex.
When the roof's down, of course, visibility is superb!
Driving the Corvette is a rush. Not only does it accelerate as if propelled by solid rocket boosters, but its suspension is independent all around and this helps the Vette take care of business both straight and twisty in a most rewarding manner.
We took the car for a loop that took us through Kananaskis Country, Alberta (see accompanying photos), on a sunny late summer day. It was a fabulous adventure. The Vette gives you excellent road feel, especially when you shut off the traction control and activate "competitive driving mode", which tightens things up nicely, making the Corvette feel even more of a sports car than it does with the electronic nannies activated.
The power top works well, though I found its activation a tad finicky; I sometimes had to speak sternly to the car before the top would activate. But work it does, looking extremely cool as it goes through its roboticized motions. You can't put it up or down when you're moving, but that strikes me as a good thing.
Here's a quick listing of some Corvette convertible highlights, from GM's website:
400 horsepower 6.0 L LS2 V8 engine
Standard 6-speed manual transmission with short shifter and internal upgrades
Available, upgraded 4-speed rear-mounted automatic transmission with overdrive
Aluminized stainless-steel exhaust system with polished chrome and quad outlet
4-wheel independent suspension
Standard power folding convertible top with larger heated rear glass window (18.5 seconds cycle time)
Exposed Xenon headlamps with automatic exterior lamp control
5-spoke aluminum wheels (polished aluminum available)
Keyless access and ignition, engaged with push button start
Bose premium 7-speaker system with ETR AM/FM stereo with 6-disc in dash CD changer and MP3 player
Sport bucket seats with leather seating surfaces and power 6-way driver and passenger seats
Air filtration with pollen filter
HomeLink transmitter, includes garage door opener
Available OnStar
Heated driver and passenger seats
Head-Up Display
Driver Information Centre
Air conditioning - automatic, dual-zone, includes exterior temperature display
The new Chevy Corvette puts egg all over my face for having been an unbeliever. It's an awesome ride. It's rude, it's brash, it's in your face. And it can back up all of that bravado with outstanding performance.
Can I have it back, for just one more week?
Jim Bray publishes TechnoFile Magazine at www.technofile.com. His varied careers have included journalist, technology retailer, video store pioneer, and syndicated columnist; he does a biweekly column on CBC Radio One's The Business Network.