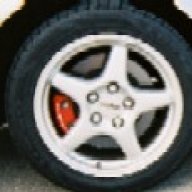 Joined

Jun 20, 2002
Messages

2,509
Location
Corvette

none right now :(
There seems to be a lot of C4 guys here that know their stuff... I have tried the Honda forums but all the people seem to know is how to bolt on big wings and body parts!
1990 honda civic (let's not poke too much fun at me for driving this thing to work every day my CE appreciates the garage
)... starts and runs great, 167k... the problem is on startup... If the car is cold it starts, but if you shut it down (or stall it) it won't restart... it smells of gas, so I am sure it is flooded... wait 15 minutes and it will start... the dealer can't even figure out that there is a problem (you know how everything always works fine when the dealer gets a hold of your car)
The basic question is where should I start looking on a basic fuel injected car for a cold engine/rich fuel situation?
Thanks, and try not to tear me down too much for posting a Honda question