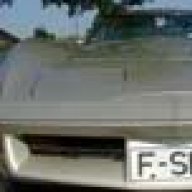 Joined

Jul 28, 2003
Messages

1,765
Location
Corvette

1982 Collector Edition
Thanks Guys..

Gerry: It really wasnt a problem with Temp. She did the same warm and cold. So, nothing on that front. But what he did say was this:
He hadnt seen a fuel pump act like this. Like you said, they work or they dont, but, apparently i had an odd one. Not only did it last 19 years without fail, but she primed, she pumped fuel and ONLY under load did she fail. He concluded that he thought that the old pump had an electrical issue as all things he tested checked out fine. But all let to the same conclusion that it could only be the pump and when he replaced it, all is well again. He did not share the PSI of fuel being pumped in idle and/or under load.
I also gotta check if he replaced the filter or if it's laying in his shop. I was too exited to ask.. :eyerole But it's not in the car, he didnt write down that he did, gotta go peek under the passeneger framerail tonight.