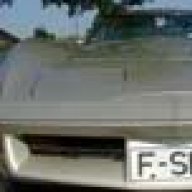 Joined

Jul 28, 2003
Messages

1,765
Location
Corvette

1982 Collector Edition
Howdie all..
Yeah, i know, only coming by when i got an issue.
Tuesday, i wanted to drive home from coming from Ankara. Hop in the car, starts right, no sweat, yeah, going home after 5 days of 33C in the heat working over the weekend.. After 5 minutes of driving, car is warmed up at new normal temp of 190F, she starts bogging down. hit fun pedal roars up, doesnt go anywhere.. WTF? :ugh

ad
So, i creep over the crossing, stalling, hitting the revs to 3-4k to keep her running, crawling at 30kph until i can park her on the side. Rats.. I look around, nothing obvious. The only thing i can see is the oil dipstick is full of oil to the middle of the dipstick. WERD..
Ok, call the wifey, tell her i'll be a bit. I crawl home on back streets, flashers going, stalling out, revving up, making a scene all the way home. Trying to ignore the clunking that happens once in a while (flinching everytime it does it). Now she is in the Garage. I only had a cursery look, oil dipstick: Same still, cold or warm. Double WERD!!
I pulled 2 spark plugs to see if my usual cylinder is making a ruccus.. Nope, a bit oily on the threads as usual, but the head grey and okay. Checked other fluids, seems normal.
When i start her up, it seems fine. I ran a WINALDL and all data suggests normal, but i didnt get her our of the geeerage, as i dont want to be stranded again. I havent been that brave.
Also i have zero time. I gotta go to Moscow on Monday. Any advise from the experts here? Feels like someone dropped a half pound sugar in the tank, but the spray on the bowls is normal (yeah, i checked, dont ask why
)..
So only thing must be inside, the only thing that weirds me out is the Oil on the dipstick and it's a bit wet under the car.. Maybe the Tranny blew? I can seem to shift Park to D, no worries there, it goes into it's usual bending down at the knees and seems ot be strong.. am lost.. Not that that is new..
Help.. pls pls.
Thanks Gang!
-Stefan