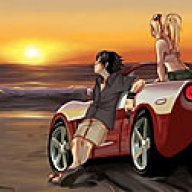 Site Administrator
Staff member
Administrator
Joined

Sep 16, 2000
Messages

13,854
Location
Corvette

1990 Corvette ZR-1
Old Dog–New Tricks
Danny Popp Wins the Goodguys Autocross Title with a C3
by Hib Halverson
Danny Popp in the '72 Coupe at the Scottsdale Goodguys event. Image: Danny Popp.
If you're a Corvetter interested in motorsports, you've heard of Danny Popp. The guy has at least 13-major autocross championships and many of those have come with newer Corvettes. What's intriguing about Popp's latest success, the Goodguys 2013 AutoCross Championship, is he drove a Lingenfelter-powered, 1972 Coupe to win that title.
After winning the Goodguys Championship at Scottsdale, Arizona on November 17th, during a victory circle Interview, Popp was emotional. "I know my mom, Judy, was looking on today. My Dad, Herb Popp, bought this Corvette over 40 years ago and I still get to drive it. My Mom and Dad raised me at the track. As a kid, I just knew I wanted to race AutoCross for the rest of my life. And today we got it done. This was the hardest field I've ever raced. There has to be over 40 SCCA national championships combined with all these drivers here today. I couldn't be happier!"
Popp, who's a Corvette specialist at McClusky Chevrolet in Cincinnati, does all the car preparation on the '72. The engine is a 670-hp, 8500-rpm, destroked LS7, Gen 4 Small-Block V8 built by Lingenfelter Performance Engineering and topped with a Holley EFI system. The transmission is a Muncie four-speed. The chassis uses Vansteel suspension pieces, Addco stabilizer bars, JRi shocks, Wilwood brakes, Forgeline GA3R 18-inch wheels and BF Goodrich g-Force Rival tires.
With the Lingenfelter/Holley-equipped C3, which has proven to be the top competitor in the sport, Popp's long racing career would seem like it's far from winding down. The seven-time SCCA SOLO II Champion and five-time NASA AutoCross Champion from Cincinnati, Ohio, competed in a variety of events this year besides the Goodguys shows. One was the Holley LS Fest held in September. Popp was the LS Fest's 2013 Grand Champion by competing in a variety of racing events at the show and having the best average score.
Talk about trophies! Danny went home with this after the Holley LS Fest. Image: Danny Popp.
Popp began autocross racing at 16 and ran the blue '72 until he was 30 then switched to newer Vettes. "Between NASA and SCCA, we've won 12 national championships and we've won all types of shoot-outs. As far as autocrossing at GoodGuys, we just got involved last year," Danny told the CAC, "All of my Corvette sponsors who knew I had that car and who were interested in running Goodguys, asked me to un-mothball the car and run it. t's fun to be able to race it again, especially because it has so much heritage with my family."