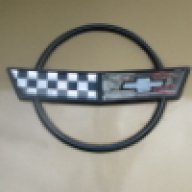 Joined

May 29, 2006
Messages

82
Location
Corvette

1987 Gold Coupe
Hi all,

Since I replaced the plugs, wires, cap and rotor, I've got a slight jerk/stutter around the 1800-2100 rpm mark while maintaining a steady speed/rpm. Not sure if this qualifies as a 'miss' or not. I replaced the new Delco plugs today with no-gap Bosch Platinum 2's, but the problem still exists. What would you guys recommend checking at this point?

Info:
-1987 auto coupe
-Replaced wires/cap/rotor with Delco parts
-Cap&rotor seem a bit noisier now, though it could be because I'm listening hard for something wrong.
-TPS was adjusted to 0.54 recently, so doubt it's that...
-Drove it hard a couple nights before the tuneup, would a slight leak in the intake cause this behaviour? Just trying to think of non-cap/rotor/wires things...
-Wires routed well, close to factory style.

Will redo wires/cap/rotor with higher-end products if it comes to it, but thought the Delco would be OK for this kind of thing. Anything special to do I may have missed during cap/rotor replacement? Would a lack of dielectric grease on plugs/wires cause this?

Thanks a ton for any advice...

-A.