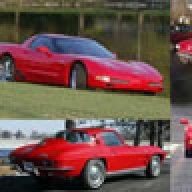 Joined

Oct 11, 2003
Messages

1,895
Location
Corvette

15 Z06, 01 Vert, 63 SWC & 60 ALL RED
We got the body all mounted up and the doors set. We got the doors close, close enough for now. Because the stock radiator support on a 63 comes too close to the front of the SRIII frame, I had to get a different support.
I called Clint up at Coffman Corvette after being advised by Rich L. and SRIII that I needed to get a big block radiator support because the legs on it kick it further forward. I thought I would have to drill new holes or some other modifications to make it work, but it went right in matching up to all holes very nicely. Given that it was a reproduction part, I was nicely suprised!
Here you can see how far the radiator is kicked forward.
Because we got the body set on the frame and shimmed, we were able to get after bonding the rear where we cut out pieces.
Here is the rear wheel area we cut out...because I went with some wide tires in the rear and did not want to widen the fenders the only place left to adjust is in the insdie....
Further down you will see how wide the rear tires are. I wish I could have found wheels I liked that were wider and tires to fit, but this was the best compromise.
We went a bit further than we needed on the inside movement of the wheel wells, but I wanted to get past the rear upper shock mount so that we wouldn't have any rubbing, so I really moved it inside.
In order to fixture the inside wheel wells to their new location, I used blocks of wood with dry wall screws to fixture the pieces into location.
I used 3M product 8223 2 component adhesive to join the pieces together. After it dries, we will be able to hit the high spots with a sander and go right over it with fiberglass cloth and epoxy. I am going to use WEST system similar to what is used on boats. This is extremely strong 2 part epoxy system.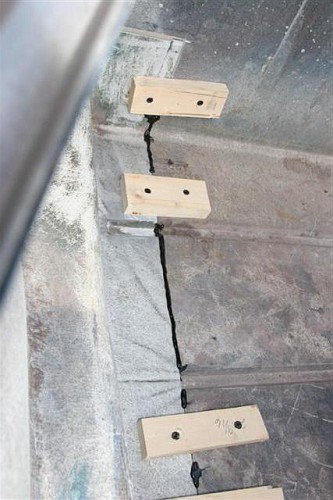 Here are some shots of the car sitting on the ground......when the motor is in place the front end will come down.