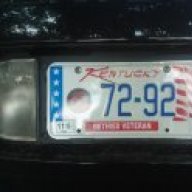 Joined

Nov 29, 2014
Messages

40
Location
Corvette

2000 Triple Black Convertible 6speed
Well, changing the harmonic balancer was quite a chore, but that's done. No more squeaks from the rubber and no more wobble. Belt runs straight. LONG road test was awesome. (Had one come apart on my 95 Impala at 45mph)

HOWEVER, the steering wheel got turned significantly while disconnected from the rack. Although the rack was recentered and the steering wheel was recentered when the two were reconnected I got a service message when backing onto my road and Code C1288 shows now.

I read that both the rack and the column have to send matching signals (voltage?) to the TCM.

How can I get the two re-synced? Is there a certain target voltage from the column that I can probe for while turning the wheel?