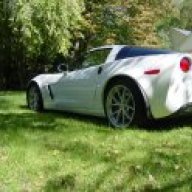 Joined

Aug 7, 2013
Messages

95
Location
Corvette

2013 Z06 1LZ
Now over 90K miles. So far, the engine is holding up well. Uses zero oil between changes. I stopped doing oil sample reports because the engine is showing no signs of internal measurable wear, according to the reports. So far, in my ownership, I've had to do these items:
ROAD DAMAGE:
Right front rim-pot hole damage
A/C Condenser-stone damage
NORMAL WEAR:
1 Battery
2 sets of tires
1 set front brakes
Hood struts
FACTORY FAILURE REPAIRS:
Radiator-Leakage-might've been aggravated by the pothole hit
Power steering hoses- HP leaking-replaced both including cooler
CAGS leakage-Solenoid replaced
POSSIBLE FUTURE REPAIRS:
HVAC actuators starting to fail. Vent flow has failed, Driver side blend is acting arthritic. If I have these done, with this car's age and mileage, I'd have the evaporator and heater cores replaced as well as the blower motor. Seems they are only accessible when the dashboard is completely removed.
Would I buy this car again? Yeah...Absolutely! All things considered, it's been an amazing ride and continues to be so. These cars are surprisingly robust. And unbelievably enjoyable to drive. Always a bummer when I have to pull back into the garage...