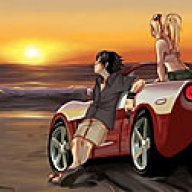 Site Administrator
Staff member
Administrator
Joined

Sep 16, 2000
Messages

13,905
Location
Corvette

1990 Corvette ZR-1
I
t's been a while since I actually sat down to write a Wheelspin editorial. Between work, running web sites, and working on my house, I've barely had time to just sit down and breathe.
Recently somebody asked me what I usually listen to when I take the Vette out for a drive. I was about to answer with my usual response: Alice in Chains, Rush, Metallica, Godsmack, etc., but I actually had to think about it.
In the past, I always found myself downshifting and stepping on the gas during songs like Metallica's
"One"
, Rush's
"Red Barchetta
", or Godsmack's
"I F***ing Hate You
", but the last year or two, that's changed. With the ever growing responsibilities of house and yard maintenance, most of my weekends were spent around the house while the Corvette sat in the garage. When I did take it out for my usual run up through North Hampton and Rye, New Hampshire, I ended up chilling out to Loreena McKennit, Dead Can Dance and Lisa Gerrard.
With most of the house projects now complete, I'm looking forward to enjoying the Vette more this coming summer and getting back to making my bi-weekly run up along the coast of New Hampshire and Maine to recharge my own batteries. What will be playing over the speakers? Sully Erna's
"Avalon"
CD.
Sully Erna is the lead singer of Godsmack. Sully grew up in Lawrence, MA, and for those of you that are familiar with Lawrence, you know that growing up there couldn't have been easy. I still have many fond memories of it during my high school years. LOL
Sully started Godsmack around 1995 and over the years, the band played the local music scene; moving up the ranks and amassing a loyal following. It wasn't until the debut of their first album that I had even heard of them. During that time frame, the majority of the music being played over the radio was grunge, which I really detested. It seemed like everyone was entrenched in Nirvana, and Pearl Jam. Just as I was starting to wear out my Alice in Chains CDs, along came Godsmack.
The music was electrifying, the sound - rough and harsh, and the beats - tribal and entrancing. From "Moon Baby" to "Voodoo", I remember thinking: "if this band can stay off the path of so many other bands before them who ran into drugs, alcohol and the rigors of the road, Godsmack is going places. Sure enough - they have.
Ever since that first album, the band has continued to mature and produce some incredible music. From the very first Godsmack show I saw at the Hampton Beach Casino, to the solo show that Sully Erna did a couple of years ago at the same venue, I have been constantly reminded of how music is truly a gift, and how important bands like Godsmack and people like Sully Erna are to those of us that understand this gift and enjoy it day in and day out.
Sully recently released his very first solo album called "Avalon". He recruited Lisa Guyer, whose dynamic and etheral voice can be heard on
"Hollow"
off of the Godsmack "IV" album. Sully and Lisa are joined by Irina Chirkova, a classicly trained cellist, and Niall Gregory, the percussionist from Dead Can Dance.
The album is basically an incredible collection of compositions that stir your emotions and entice your soul to dance. The combination of tribal rhythms and beats with bluesy, passionate vocals literally grabs you and pulls you in.
The album begins with the title track -
"Avalon"
. With it's ancient rhythms and Middle Eastern sound, you can almost picture yourself standing on the Isle of Avalon gazing out over the water.
"Sinner's Prayer" will have you tapping your foot at your office desk (as it did to me the other day), while "My Light" will remind you of that one thing in your life that is the most precious to you above all else, and the amount of joy and peace it brings to you.
Last but definitely not least,
"The Rise"
and
"Cast Out (Spirit Ceremony)"
are a percussion aficionado's dream come true. Coming home from the gym tonight, I found myself finger-tapping on the steering wheel listening to Lisa Guyer chanting...
"From within, you'll begin to feel the rise! That which is like, unto itself is drawn..."
There are so many awesome songs on
"Avalon"
, that it's almost an injustice to try and pin point one that could be considered a favorite. If I had to do it, it would probably have to be
"Cast Out (Spirit Ceremony)"
. That song just makes me want to start dancing while air-drumming.
If you buy this album expecting to hear Godsmack, you will be sadly disappointed. Other than hearing slight wisps from Godsmack's "Voodoo",
"Hollow"
and
"Serenity"
, the entire
"Avalon"
album is a refreshing gift for the ears in a world currently plastered by Lady Gaga and Justin Bieber. "Avalon" will bring you on an incredible musical journey that will stir your heart and soul at their very core.
This coming fall, my two best friends have invited me to accompany them to England to stay in a castle and help celebrate their ten year wedding anniversary. It's a trip I've been dreaming about for years, and I'm honored they asked me to join them. Part of the trip includes a stop at The Holy Island of Lindisfarne.
Lindisfarne is home to the monastery founded by St. Aidan in 635AD as well as the Lindisfarne Mead factory. Once there, I will be standing on the shores gazing out over the water with a goblet of Lindisfarne Mead in hand, listening to Lisa Gerrard's
"The Unfolding"
, followed by Sully Erna's
"Avalon"
.
Related Links:
Sully Erna - Avalon: Sinner's Prayer:
http://www.youtube.com/watch?v=DlK5N-Lcvjc