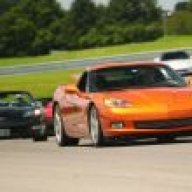 Joined

Sep 24, 2004
Messages

6,346
Location
Corvette

2007 Atomic Orange Coupe
Guys,I need some help with some RR's I bought (used 4000 miles). Crane Cams Gold Roller Rockers (PN 10758-16). They came with screw in studs (I'm short one), lock nuts and pushrods. First off do I need to replace the rocker studs? The rockers have a 3/8" mounting hole, are my 94 LT1 (stock) studs 3/8" or 10mm? I can't seem to find on Crane's site any info. Did these rockers come with these studs? I can only assume they did. What I find on Crane site talks about these studs being used for non self-aligning rockers the rockers I got are self aligning.

Secondly does anyone have any info/suggestions for me when I do the change over? I will be doing this without removing the heads. I will be replacing the valve springs as well (low mileage LT4 springs, retainers, shims, etc.) I have never done a valve spring change out with the heads on (and it's been several years since I did one with the heads off....like 32).

I'm up for any info/help/suggestions you guys can come up with.

Thanks in advance.