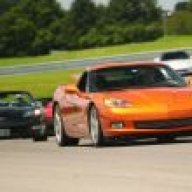 Joined

Sep 24, 2004
Messages

6,574
Location
Corvette

2007 Atomic Orange Coupe
I bought a short throw "Core"
core-shifters Home Page
Shifter and a CAGS defeat module for the orange monster. Today I decided to make the changes.
Adding the CAGS defeat module was simple....having a lift makes it very easy. Just unplug the cable going in to the transmission and insert the module in-line, use the supplied zip tie to tie it out of the way of the exhaust pipe running past that point and done.
The shifter was a bit more involved. Removing the console was pretty straight forward. I think I'm glad that it had been out before, for the stereo swap. There is a good video on youtube to show you step by step the process to remove the console.
The core shifter doesn't require you to modify to rubber "boot" like some other shifters do. My biggest question was with the "L" shaped rod that is attached to the front of the stock shifter plate that goes into the front of the shifter mechanism. There was no provision for this rod on the new Core shifter. I fretted about it for about 20 minutes, then I decided to contact Core about it. The website only has an Email address to contact them. I was hoping for a telephone number, because I needed/wanted an answer "NOW". Well, much to my surprise, I actually got an answer pretty quickly, within 10 minutes, explaining:
No aftermarket shifter uses that rod, it is only used for box alignment. You should keep it if you ever need to remove the trans etc. Absolutely do not put it back in the hole, it should be removed from the vehicle.
Well that was the information I needed and proceeded to put everything back together. The most difficult part of the whole job was cleaning the old gasket off the shifter housing and plugging the wires for the seat heaters, and the hazard switch. They came off pretty easy, but trying to put them back on blind was, kind of, a PITA.
I bought the version of shifter that re-uses the stock shift knob. So by looking into the car, no one would realize the swap had been made. I took it out and ran it through the gears and the new shifter has a "notchy" feel. With the addition of the CAGS defeat, the car is much different.