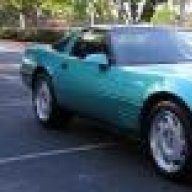 Joined

May 18, 2003
Messages

312
Location
Corvette

1991 Turquoise Metallic Coupe
GMJunkie, thank you man!
I was finally able to replace all eight of my 1991's spark plugs! SUCCESS!!
I was having the most difficult time replacing the last spark plug in Cylinder #2, the one on the passenger's side closest to the front of the car. I tried everything short of removing that damn AC Compressor! Well, GMJunkie gave me a simple point: remove the middle section of the wheelwell splash guard. EUREKA! It took me all of 10 minutes to remove that splash guard, and viola! I had easy access to that mother of all spark plug locations in the C4!

PS: The only bummer was, I discovered a few missing screws in the area that the dealership mechanic failed to put back on. WTF?

ad It wasn't causing any problems but WTF is wrong with mechanics today? Are they THAT lazy to put all the screws back in the same place after they service the car? Unbelievable! I had to go get the screws and replace them. I even saw one of the radiator fan frame support screw missing! It really boggles my mind. This is why my Corvette will NEVER go to another mechanic again! If it does, I will double check their work before I leave the premises!