Joined

Apr 23, 2010
Messages

9
Location
Corvette

1975 Dark Red L82
I had some issues with charging and starting, so being an overeager idiot, i took the battery, starter, and alternator to get tested all at once.
Alternator was shot, and had worn out my brand new battery, so 2 for 3. Starter was fine, but upon reinstalling the starter as I could remember how it went in, I found something to be amiss.
When I try to start it, i hear the starter spinning, but not actually catching the flywheel and turning the engine. I went and bought a remanufactured starter from Advance, and got the same problem.
The alternator is good, the battery is fresh, what could be causing two separate starters to not work properly? Did I reconnect the wires improperly
How its currently installed #1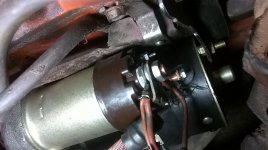 Different Angle
How the old one looked after I tried to reinstall