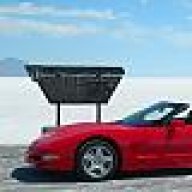 Joined

Jul 20, 2006
Messages

252
Location
Corvette

1998 Torch Red Convertible
So I took the Vette to the Stealership 8 am Saturday. They called back about noon, said it needed a wheel bearing (covered by warranty), and that somewhere along the line the wrong differential fluid had been used, so it needed to be replaced with a synthetic (not covered by the warranty, $175 please). Whatever, I know I've never had the differential even looked at before.
I called them back today, an hour later they finally returned my call and said it was done. Rushed to get there at 5:30 since they close at 6:00, gave them the ransom, drove it a mile down the road...and you guessed it...
THE PROBLEM IS STILL THERE.
Of course I turned right back around, but the one service writer there read off the repair list and said "looks like you need a new differential" which was I'm sure a WAG. If so I had better get that $175 back! Not to mention - did they not even take it for a test drive between 2:30 when they told me it was done and 5:30 when I got there? They sure as he## didn't wash it!
mad

ad
The service manager had the misfortune to send me an email before I picked the car up saying "if you have any problems or questions please contact me at the number below" so guess who is getting a call from a very mad Pinky at 7 am tomorrow.