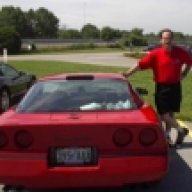 Joined

Oct 30, 2001
Messages

2,273
Location
Corvette

1986 Bright Red Coupe
I was sitting there with a timing gun today watching my timing change as I played with the throttle cable (yes, I'm easily amused
). Essentially, the guy I borrowed the timing gun from told me to make sure the timing is advancing as the RPM's climb. So... my questions are:
a. Where does the timing belong as you're accelerating, and
b. Which way is advance and which way is retard on the scale?
-|
| before
|
-| TDC
|
| after
-|
Pardon the crudity of the drawing, but my scale looks something like this. When idling, the line is right smack on-center. As I increase the RPM's, the line moves UP (towards the passenger side) into the range marked as 'before' on the scale. I thought 'before TDC' meant I was decreasing or retarding the timing.
Pointers or tips?
Thanks...
[RICHR]
<on a side note, finally got the fourth TPiS shock installed. Nice handling...>