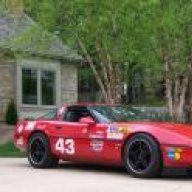 Joined

Dec 31, 2004
Messages

76
Location
Corvette

1992 Z07 coupe:1993 Ruby coupe: 1990 Racer
Bob Johnson 1927-2012
'Marietta Bob' Johnson passed away on Monday, May 7, 2012, in Marietta, Ohio. Bob is well known in the racing community, having driven some of the most notable Corvettes ever raced. Bob's driving career started at age 36 racing Doug Bergen's 1966 427 Corvette Coupe. He won his very first race at Cumberland, MD, with this car, and finished the season with 7 A Production race wins in his first year of racing Corvettes. Bob went on to drive the 1968 L88 (number 12 car) and the 1969 L88 (number 3 car), both cars also owned by Doug Bergen. In 1970, Doug quit the race car owner business, but Bob continued racing with legends such as 'Columbus Bob' Johnson, Don Yenko, John Greenwood, Dave Heinz, and Toye English. In 1972, Bob drove a Corvette for Fred Semon and won the SCCA Central Division title and then placed third in the SCCA National Finals.
Bob is probably best known for driving the number 4 LeMans racer in 1972, which is on display at Mike Yager's MY Museum in Effingham, IL, and the # 57 Rebel car while sharing the time behind the wheel with Dave Heinz. Bob and Dave were clocked lap after lap hurtling down the Mulsanne Straight at 211 mph. In 1973, Bob and Dave Heinz placed first in class and third overall at the 6 Hours of Daytona and first in class and second overall at Sebring. Bob also co-drove with John Greenwood at LeMans in 1973-1974.
As a friend of Bob's, it is very sad to learn of his passing. I relish my time spent with Bob and Doug and thoroughly enjoyed the hours spent listening to the stories of the Glory Days of Corvette racing. We will miss Bob greatly, but will always remember his contribution to the history of Corvette racing.