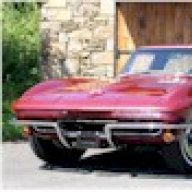 Joined

Apr 2, 2004
Messages

4,611
Location
Corvette

1965 Coupe L76 / 1978 L82
well, the flatbed truck just pulled away taking the '78 i spent most of the late Winter and the Spring re-doing.
The towtruck driver will meet me early in the morning outside of gate 3 at Carlisle where she will get unloaded and I'll take what might be my very last drive in her from the gate, thru the fairgrounds, to put her over in the car corral area for sale.
After all that work and even with test drives after dropping the motor back in I drove the car probably no more than a dozen times - and I'm not even sure short test drives of just a few miles even count, nor the drive to and from the paint shop. with the mileage on her sitting on the truck compared to the mileage when a flatbed brought her home for the first time I racked up a grand total of 351 miles on her.

Meanwhile, my wife is spending the weekend at the show with me with her fingers crossed that nobody will buy it at our asking price. She knows we need to sell it but at the same time she wants it as her own toy to enjoy.

we will see what happens. To be honest, even I have mixed feelings and not sure if I want to see her sold or hoping she doesn't sell....... we definitely need the money she could bring but after all that work it's hard to let her go.