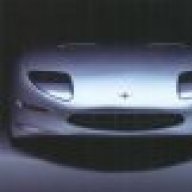 Joined

Aug 2, 2005
Messages

1,767
Location
What car have you been tempted to buy recently? Has an old Callaway or other car gone up for sale that has made you go "well... I didn't know I wanted it, but now I'm thinking I've gotta have it!" or has a new car caught your eye and made your money burn a hole in your pocket?
Now, while I'm tempted to buy this car, I don't have the means to back it up. But... this beauty has caused a change in my mind, and reserved a special place in my 'dream' stable of cars for a prancing horse. This is a fully American 308 GTS I found for $20,000.
It's not 100% my dream 308, but it was enough to tempt me.
After I get my C8, I think an early carburetted 308 GTB, with deep front spoiler, european black rubber bumpers (smaller than american), single exit exhaust, in this Azzuro color may be on my wishlist. I have a neighbor 3 blocks away with just that... a daily driven one that needs a lot of work. If it were put up for sale before I buy my C8... I'd have a tough decision!

(this pic's a year old, the car has since been backed into a pole and the deep spoiler on the front has been heavily damaged).
What car has been tempting you lately? Is it a specific one (if so post a pic if you can) or is it just one in general?