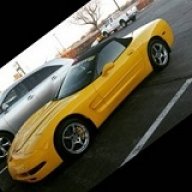 Joined

Dec 31, 2006
Messages

56
Location
Corvette

2000 vert bright yellow
New member to the forum today. I'm contemplating the purchase of a 1980 Vette that I've been looking at the past couple of weeks. Will hopefully get the chance to check it out thoroughly in the next couple of days and take it for a test drive.

The car's exterior (lt beige) appears excellent and the mileage is around 53,000. I know it is the 350/auto but not sure if it is the L48 or L82. The car is currently owned by an older couple who have had it stored for the past several years (inside - thank god). They have told me that they have had a garage go over the brakes and everything under the hood. A new state inspection will be done by them the first of the week.

My question is, being a first-time Vette buyer, is there anything in particular I should look for or know about the C3 - especially the '80 model year and pay particular attention to when I get the chance to fully check the car out?

I am not an idiot when it comes to mechanicals...but I'm no auto mechanic either. I've always wanted a Vette (almost bought a '64 once - have kicked myself many times for not doing it).

Any suggestions/recommendations anyone can provide will be much appreciated.