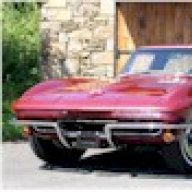 Joined

Apr 2, 2004
Messages

4,611
Location
Corvette

1965 Coupe L76 / 1978 L82
Well, it's been a longer project than we had planned, we started planning it in the middle of May and started actually working on the car July 3rd and finally today we finished.
Today we had to reinstall the drivers side exhaust manifold which was removed to get the frozen studs out to replace them since two of them were stripped than we installed the complete new exhaust system. Next was the reinstallation of the power steering control valve which Mike rebuilt.
After that we filled the radiator with coolant. A minor leak there and we discovered a loose clamp on one of the coolant hoses but that was easily and quickly fixed and stopped the drip. Next we refilled the power steering pump with power steering fluid and it was time to test fire up the motor. After just a short amount of cranking she fired up and the motor and new exhaust sounds just fine.
An odd whining noise that seems to be coming from the alternator may be indicating a bad alternator pulley bearing I'm guessing but Mike will work on that noise once he gets the car home along with some other odds and ends stuff. He now has all winter to work on the car so he will have it to enjoy in the Spring. He wants to clean up the engine bay and dress it up with nicer valve covers, clean the intake, etc to make it look good plus he needs to work on the interior.
Once we fired up the motor i noticed the car wouldn't go into gear but checking the tranny fluid we saw the dipstick came out dry, not a surprise as they mentioned the tranny always dripped a lot, so i'll run back to the car on Tuesday with some tranny fluid and fill it up and check it again. Not a big deal really, when I got my '78 the same thing happened - no tranny operation and I discovered it was very low on fluid so I filled it up and she has been great ever since.
in a few days they will send a flatbed to come pick the car up and take it home, than get it over to an alignment shop, than eventually over to DMV to get the car registered for the road.
He still has a lot to do to make the car really drivable and usable, but the project that we offered is now completed. He has a good, solid, replacement frame, along with all new and/or rebuilt front and rear suspensions, new exhaust, all new brakes front and rear, etc.
Actually, there is one more thing left to do on this project and it's up to me to complete. The article that is going to be run in Corvette Enthusiast magazine needs to be written and submitted and that is on me so over the next week or two i need to find time to sit down and write all about this from start to finish.
Oh....... as an added bonus for today, today is actually Mike's (the young car owner) 18th birthday. What a present for him to have this project finished on his birthday! He was very excited.
here are the last pics:
http://www.vetteclub.org/1980_Project/projectpics13.html