Joined

Jun 13, 2015
Messages

7
Location
Corvette

1981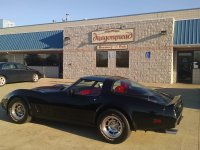 Having an interesting issue, and I thought maybe one of the well-versed C3 gurus on here could help.
I have an '81, stock black on red car. Lots of miles, and it was at deaths door when I got in in '06. Didn't run, 4 flat tires, leaking rear end, etc. I've reshot the paint, tightened up a lot under the car, rebuilt the rear, rebuilt front end, all new brakes parts, new interior, you get the idea. She looks good for her past.
Now here's the issue. When driving over anything more than an expansion crack, the front clip shakes and bounces around, visibly from the drivers seat. The hood moves a bit as well, doesn't pop the latch, but you can tell its' moved.
I replaced the front mount bushing , checked the frame extension bolts, checked the radiator support bolts, all tight. Birdcage is super sold, bonding to the car is solid. Rivets are all there in the front clip to attach it to the metal piece at the nose.
I'm at a loss. My brother in laws 81 never did it, my uncles 66 and 72 didn't do it, and my 74 had a very small amount of "fender dance" as I call it.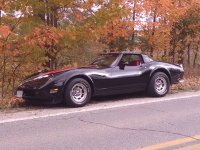 Ideas? Is the clip just triangulate with the sides at the doors and the single bushing in the nose, or is there more that holds it in place? Seems like lower rad housing /support bolts go through frame/frame extension?
I currently have the 'glass front bumper cover off to repair some cracks and reshoot it. I'm replacing the oil pan gasket as thats leaking a good deal. I've worked on the headlamp doors and lights to get them right. Also replacing front bumper cover attaching strips on L and R side of clip.