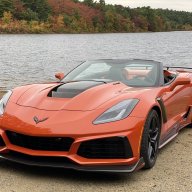 Joined

Feb 10, 2019
Messages

40
Location
Corvette

2019 ZR1 Sebring Orange Convertible 7-speed.
Hi folks! New owner here. I am a motorcycle nut....specifically MV Agusta motorcycles, so I like speed and style. I am a moderator on mvagusta.net so stop in there and say hi if you dare.
A little background is that when I was 8 and the Corvette L88 hit the street, I wanted a 'vette. Not just any 'vette, but a '68 L88 in Forrest Green with a convertible top...T-tops if I couldn't get one with the rag top. My father was particularly against the idea because, well, I was 8! Really, it was a bit later when I started trying to find one at age 15 that he got worried that I might actually succeed in my quest.
He didn't like the Corvette. He thought it dangerous and ill engineered. Unsafe. Mind you my father was an Engineer....an Electrical Engineer...but with years of car tinkering under his belt.
He went so far as to take me to an accident between a pick-up truck and a Forest Green Corvette with T-tops...a 1968 no less! This was the C3 body STINGRAY! The car hit the truck head on as it left a party. The headlights had not come up yet as they were vacuum actuated and it was cold so they were a bit slow. The truck was a Chevy and it was a friend who was responding as a volunteer firefighter to a call.
The car was gone from the nose to the passenger compartment. Destroyed. The engine had been pushed in between the seats as designed. The driver and passenger seats were fine. The compartments for the footwell were fine. The driver and passenger were fine. The driver of the pickup was uninjured, but the truck was totalled.
My father was not happy when I Pointed out to him how the safety engineering of the 'vette protected the occupants. This was at 2 in the morning!
It became "my roof, my rules"....and I got a nice light green 1972 Chevy Impala.
Corvette took many turns with its design over the years. It got slow. It got heavy. It got ugly. It got gentrified and it lost its luster.
During that time, as recently as five years ago, I started looking for a '68 L88 because I was going to want a retirement car for fun...and I could probably afford one now. My father has long gone, so he could not dissuade me...and my wife, Cindy was on board with a cool little rag top 'vette...
...until we saw one sell on Mecum....$1.3 MILLION US DOLLARS!!!! Dream crushed again.
Then, Chevy did it....the C7 body. The Stingray was born again....'vette looked great again!
Then the rumors started...C7 will be going away, rear or mid-engine, no more pushrod V8....horror!
But wait, what's this....C7 is going out with a bang...ZR1 - 755 hp - 710 ft-lbs torque - rag top option - 7-speed option!!!!!! No Forest Green, but a cool Sebring Orange....
Being charitable and kind, I approach the CFO of The Compound...she likes it.
So after some discussion about affordability and potential value years on down the road, we ordered our 2019 Corvette ZR1 in Sebring Orange with a 7-speed manual tranny and the ZLZ package. That was on March 15th of 2018. The car was built on January 11th 2019 and delivered to the dealership January 21st.
The car had its PDI done and the dealership wanted it off their property because of fear that something might happen to the car, so they let us take it on a bad check and a promise to pay for the other half of the car on the following Monday.
So, unprepared to drive this vehicle off the lot, I turned to my wife and said: "You take the truck and meet me at the detail shop, I'm driving the car over there now."
They brought the car around and while I was signing papers, two jamokes parke the car in nose and tail.....
You can see the look on my face as I sit in the car thinking: Hmmm, I've never driven this car, it is not plated, it has temporary insurance and the tires aren't qualified below 40 degrees...hell, it's 41...what could possibly go wrong. It's got front and rear view cameras, so I'll just creep it out of these two "considerately parked" vehicles and off I go...oh, what? It has no fuel? I'll get gas....
So, off I went. 15 miles of "what is going to hit this car"
and to the Detail Shop it went.
​
Uneventfully.
The Big Orange Beasty stayed at Northeast Auto Spa and it got cleaned. It got Xpel film over 3/4 of the body. It got Ceramic Pro coating on its outsides and insides. It was looking sharp!
It is winter in New England. It is cold. It is wet. My driveway is muddy. Northeast Auto Spa has an owner who is a car guy. He offers to deliver the car in an enclosed trailer right to my garage.
​
Anthony is KING