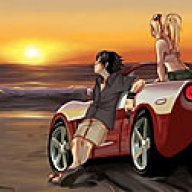 Site Administrator
Staff member
Administrator
Joined

Sep 16, 2000
Messages

13,790
Location
Corvette

1990 Corvette ZR-1
All in the Family...The Carlisle Family That Is.
February 5, 2007
The Business Will Stay in the Miller Families
CARLISLE, Pa. – Chip Miller, co-founder of Carlisle Events, had a favorite saying, "Life is Good." His son Lance has carried on that tradition, and it appears he will continue to carry on a lot more at Carlisle Events with his long- time friend and companion Bill Miller III. In a recent employee meeting, Bill Miller, Jr., announced that Lance Miller and Bill Miller III, his son, will continue in their respective families' tradition of operating the Carlisle Events business at the Carlisle Fairgrounds.
Chip Miller and Bill Miller, Jr., not related, but good friends with the same last name, started Carlisle Events in the fall of 1974 with the Fall Carlisle Collector Car Swap Meet & Car Corral. The show was such a success that three years later they began Spring Carlisle Collector Car Swap Meet & Car Corral. In 1981 they purchased the Carlisle Fairgrounds which is the home to Carlisle's automotive shows. Throughout the 34 years of existence, the Miller families continued to add specialty shows to their event seasons. Today, Carlisle Events produces eight specialty shows, plus the Spring and Fall events which also serve as bases for the Spring and Fall Collector Car Auctions. The specialty shows include Carlisle Performance & Style, Carlisle Import-Kit/Replicar, Carlisle All-Ford Nationals, Carlisle All-GM Nationals, Carlisle All-Chrysler Nationals, Carlisle Summer Bike Fest, Carlisle All-Truck Nationals, and Corvettes at Carlisle.
When asked about the recent changes, Bill Miller, Jr., commented, "I couldn't be happier. Chip and I built our shows into a really successful and exciting business. We had a ball doing it, but I'm getting to the age where I want to pursue other interests such as family and grandkids. I'm just so pleased that Lance and Bill III have agreed to help me take the business to the next level and still keep it a family business going into our second generation. We love our business, we love our vendors and we love our visitors. We try to treat everyone as though they are part of the big Carlisle Events family. I like to think of ourselves as the Disneyland of automotive events. I know Bill III and Lance will carry on that tradition."
Both of the younger Millers grew up with the business. Bill III recalls sitting at his kitchen table at the age of five with his parents. "Dad folded the fliers, Mom stuffed them, and I licked the envelopes and put on the stamp. Since that time, Lance and I have done almost every job there is at the fairgrounds."
Although three years apart in age, the two boys followed similar paths growing up. Bill III attended Northwood University in Palm Beach, Florida. Four years later, after hearing good things about the school, Lance also attended. They both received degrees in Business Management. After school, the two Millers joined their families' business in event planning, worked for several years and branched out into their own pursuits. For the past seven years Bill III has worked at his European automotive business in Mechanicsburg, PA. He has a historically-significant collection of Audi race cars. Lance pursued a web design business in Ocean City, New Jersey, called Web Mods. When his father got sick and eventually passed away, Lance rejoined Carlisle Events as the Event Manager for Corvettes at Carlisle, which was his dad's passion. Lance and Bill III are both "car guys," love to race and do anything automotive. Lance is an avid snowboarder and surfer. Beyond cars and road racing, Bill's other real passion is charcoal grilling with his friends. Both men are married, Lance to Michele and Bill III to Tonya. Both reside in central Pennsylvania.
When asked about where they plan to take the business, Lance Miller said, "Bill and I have discussed the future in great detail and agree the most important thing is to keep the business fun, exciting and fresh for the many guests that come to Carlisle because they know it is the place to go for great automotive entertainment." Bill III added, "My dad and Chip believed in treating every vendor and spectator as part of the family. Lance and I intend to continue that tradition."
Responding to questions about the future of the hobby, Lance Miller was quick to respond, "Bill III and I are the next generation. We grew up with computers and the internet. We have some great ideas about strategic upgrades to our web site that will make our internet surfers excited about visiting the site. Our ultimate goal is to make the visitor want to return to our website at least once a week. It's the next generation moving in; expect to see some new ideas implemented, not only into our website, but the overall business efforts."
Bill III spoke to the question of appealing to younger audiences, "We know it is important to continue to entertain our existing customer base, but we also need to attract younger audiences as well. After all, they continue to be the future of our success in this business. Lance and I have some exciting plans that we will be rolling out throughout this season and into the future."
Source:
http://www.carlislemediasite.com/content.asp?ArticleID=648
Related Links:
http://www.chipmiller.org