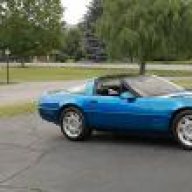 Joined

Dec 26, 2002
Messages

105
Location
Corvette

1991 Blue Coupe
I pulled my engine out of my 81 this winter and cleaned her up. I did not do anything to the internals (cam, crank, pistons, etc.). Replaced carb, valve covers, air cleaner, radiator, vacuum canister, P/S pump, added a new set of headers and then some routine stuff, distributor cap, plugs, wires, changed trans fluid and filter.

I pulled the engine only, left the trans in the car for my makeover. She is now shifting into 2nd, 3rd, and 4th at a higher rpm then in the past. It feels like she is really pushing before it shifts. Nothing noticeable when de-accelerating.

I would appreciate any simple suggestions for things to check. Thanx in advance.