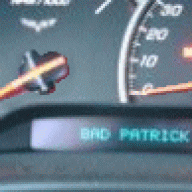 Joined

Jan 19, 2003
Messages

3,021
Location
Corvette

2006 'Evil Stealth Black' Roadster
Ladies and Gentlemen,
We are now only a couple of weeks to St. Patrick's Day. For those of us in cold northerly winter climates, this date (

March 17th

) is the benchmark: It heralds the time we can begin considering removing our beloved Corvettes from months of storage and getting them on the road again. Battery tenders will be disconnected. Oil will be changed (and those who truly wish to torture themselves will contact Remo for suggestions on oil filters.) The workbenches will be cleared off as those winter season mod projects see their conclusions. And at last, at long last, keys will be inserted into ignitions, engines will be fired up, and in neighborhoods all over the northern half of the US and Canada, the beautiful sounds of Corvette exhaust notes will sing to greet their time of year!
Yes, we know you Corvette owners in Florida and Southern California are reading this, scratching your heads, thinking, "What gives here? I drove my Corvette on New Year's Day." Bear with your cold-weather brothers and sisters here. We've had three or four months when local conditions meant we couldn't enjoy our Corvettes. Hey, we show you guys the love when you deal with hurricanes and earthquakes.
Sadly, this coming season of happiness for Corvette owners from New England to Alberta forces us to take note of how some of us have forgotten the charming idiosyncrasies of our prized rides. Therefore, this thread will serve as a guide to fellow C5 owners on the common mistakes you can make after months without driving your Corvette. After all, we have an expectation of cool that must be maintained, an aura of "badness" that must be cultivated at all times. So, with tongue planted firmly in cheek, I give you:
Be Cool:
Common Pitfalls for the C5 owner, And How To Avoid Them.
Introduction:
Ladies and Gentlemen, Fellow C5 owners, we are Corvette Enthusiasts. And as such, there is an expectation incumbent upon all of us. It is part and parcel of the Corvette experience, one which owners of other makes of automobiles look to us to set the standard. This standard, of course, is coolness. To be more precise, it is your Coolness Quotient, a rating which defines how successful you are as a Corvette owner every bit as much as your timeslips, the shelves of Zaino or Meguairs products in your garage, and the scattered Corvette America and Mid-America Corvette catalogues on your coffee table. It is a unit of measure that helps to define us, as Corvette Owners, as a category unique to the motoring public. (I mean… can you truly be cool if you drive a Toyota Tercel? Are you setting the standard for cool if putz around in a twelve year old Volvo?)
Corvette equals cool. We owners of Corvettes must accept that, and be the coolness equal of our cars in every way. The unfortunate fact is that not all C5 owners have come see this. So this commentary is offered as a guide to help you, our fellow C5 owners who've lost your way, to recover you coolness. Thanks are not necessary, we offer this as a vital service of import to owners of 1997 through 2004 Corvettes. Now, if you're sitting comfortably, we can begin.