Joined

May 18, 2016
Messages

4
Location
Corvette

1995 maroon corvette, targa top, 40,000 original m
need to sell by sept. 2nd, make me an offer. will trade for class C motorhome
UPDATE: I need to sell my baby by sep. 2nd, or trade her for a good used class c motorhome in perfect mechanical condition with everything working, including generator. I travel and sell vintage furs at antique shows, and as much as I love my baby, i can't carry furs in her or sleep in her. so please call me at the number listed below to make me an offer.... hello fellow corvette lovers,
my name is Benita and I have a beautiful 1995 C4 corvette for sale. the car is in excellent condition. I am actually the 4th owner, and the 3 previous owners were all men and kept this car garaged and babied, apparently. we all know how men baby their corvettes. they pamper their vettes more than they do their wife, and then they act like they are afraid to drive it. hence, the low miles, apparently. they probably never took it past the speed limit either. the car only has 40,090 original miles. when I bought it about 9 months ago, it had 36,814 miles on it. I took it to a bit of a corvette expert, a man who has owned a car lot for over 30 years and has owned several corvettes in his day, and he told me that the odometer is easy to mess with on the older corvettes. but he checked mine out, including the pedals, and he said he could almost guarantee that the odometer has not been messed with, due to the almost new condition of the pedals. this car really is a beauty, but when I bought her I did put her through her paces, and just to let you know, she handles beautifully at 80 taking a 45 mph curve. leave it to a woman to know how to handle something correctly. lol. but seriously folks, she really is a dream. the last owner owned her for a little over a year and put around 2000 miles on her, but he also spent 2 grand replacing the power window motors. the only thing I know of that is wrong is one of the headlight motors is going out. it still works, but keeps clicking for a minute even after they are on or off. but other than that, I don't even think she has had a tune up yet. after all, she just hit the 40K mile mark. I have bought new plugs and wires, but not sure what else has to be done at the 40k mark. but she runs beautifully. and the tread on the tires are great. i'm sure those are not the original tires, because even though she hasn't been driven much, 21 years would rot the tires. i'm asking $12,000 OBO for her and she is worth every penny. you can reach me at 904-400-0114 thanks for your time. Benita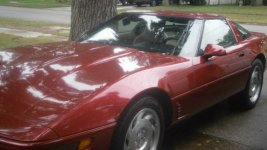 View attachment 23150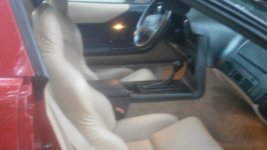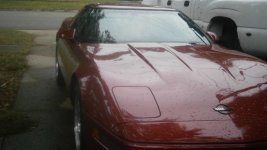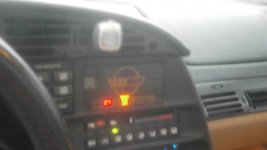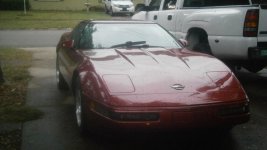 p.s. as far as I know, this is also the original paint, with no touch ups. also, I do keep her under a car cover since I don't have a garage. and the only reason i am selling her is to get the money to go back into business for myself, and i need to buy new inventory. i'm tired of seeing my husband struggling to pay the bills by himself, and i need to do my part to help him. making money is a lot more important than owning my dream car.
Last edited: