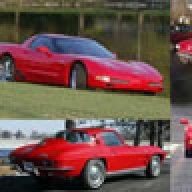 Joined

Oct 11, 2003
Messages

1,895
Location
Corvette

15 Z06, 01 Vert, 63 SWC & 60 ALL RED
I had heard a lot of horror stories about the windshields in the C1 so when I started getting after mine I was a little worried. I have to admit that after taking it off the car and now taking it apart, it really hasn't been difficult at all. Now putting it all back together might be a different story, but right now it looks pretty good.
First I started putting the windshield down on the bench top with out a cloth and then I realized, that any addtional scratches that got put in it now, would be more that had to come out later...so down went the towel.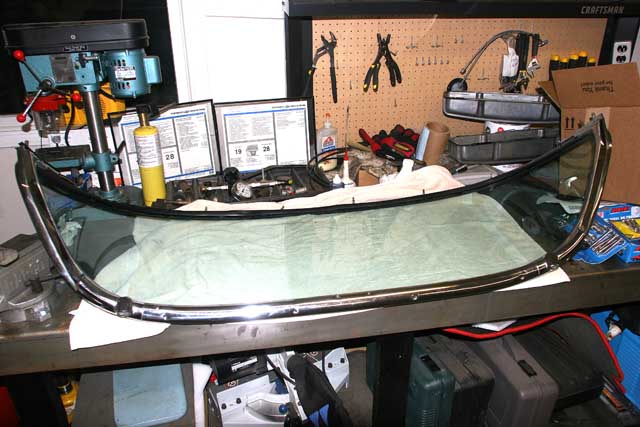 First thing I did was to take the black rubber pieces off the ends, it is like a thin rubber gasket that covers the complete end for about 5 inches or so. Then it was time to get the black goop off the ends, used a scrapper and then rolled it with my fingers to get the big pieces off. Finally soaked a rag in acetone and used that to wipe off the remaining black goop.
I also noticed that at the base of the two big bolts on the end, whoever had it before had applied some silicone sealant around the bolts, probably to make sure that water didn't get down in the car. After pulling the black rubber thingy off and cleaning the goop, two small screws (each end) were exposed.
In the photo below you can see the two holes on the tab (notice the tabs are not broken....thank you god!). Once the two little screws were out, I got my trusty hammer and started whacking on the end of the tab ever so gently....and low and behold the frame started to come apart. By now I am thinking this is too easy, there must be a catch.
but no catch....I whacked both ends with a little gentle persuasion and before I knew it both ends were off!
There were some small screws to take out along the way, some of them were missing, and I think only one was in place but before I knew it, I had the window posts completely apart!
Needless to say, I am very happy that the "dreaded tabs" were not broke on my posts!
A trip to Pauls Chrome and these pieces will be as good as new!
So all I had to do now was attack the other side of the windshield, the bottom trim moulding. I thought was this going to be tuff? Where was the difficult part at?
So I started pulling the moulding off the bottom of the windshield. There was some more of that black goop here and there that was a pain and the moulding was kind of stuck tot he rubber bead around the windshield, but gentle and firm tugs and pulls here and there and off it came!
Now I have to say I am sorry, as I was really moving now and picking up the camera and shooting photos while I was on a roll, just wasn't happening. But in the photo two above you can see that there is an inner track to the lower moulding and to get that apart I found a nice 1.5 inch piece of 1/16 thick steel I had in the shop to pry the length of the moulding and before I knew it, the thing was apart!
I think in all, it took less than 45 minutes, maybe even only 30 minutes to get it apart. I realized as I was taking it apart, that getting it back together will be more of a challenge, especially with new glass that I hope fits as good as the old, if not, then I can see the challenge growing by leaps and bounds. But for now I am enjoying my victory

.....more to come....stay tuned!
More photos on my web site that has grown to over 477 photos from the start to now.....
http://public.fotki.com/htmiata/1960_corvette/
regards, Herb