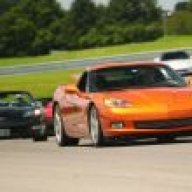 Joined

Sep 24, 2004
Messages

6,547
Location
Corvette

2007 Atomic Orange Coupe
Well, I know this isn't too spectacular, but I did a job I had been putting off since last September. Last August when Rosie and I were on vacation to Tennessee, one day we met up with Rascal_rascal_99 and he led us on the merry trip down the "Tail of the Dragon". During our run a squeak-squeak-squeak developed. Well we made it all the way home (1200 miles), and as soon as I had time (after school started) I figured out it was half axle u-joints. In the process of getting the u-joints ordered I decided that it would probably be best if I were to replace the drive shaft joints as well, so I ordered them at the same time. I did the half shafts back in September, but the drive shaft joints were going to require me to drop the exhaust system, and (I thought) the "C" beam. The lift at school never seemed to be free when I was able to do it so it just got put off and off and off.
In April I bought a 4 post lift and have spent quite a bit of time "rearranging" my garage. Well I got up this morning (having gone to church last night), and decided "today is the day" to change those u-joints. Having the lift made this job so easy, the worst part was getting the rear hangers for the mufflers removed so I could drop the exhaust off. I did some measuring and found that I did not have to remove the "C" beam, but did have to loosen a bracket for the E-brake. I took the drive shaft down to school so I could use the press, but really didn't even need the press too badly (made it easier, but not required). The U-joints on the drive shaft weren't as rough as the half shaft ones, but there was wear showing, so it was a good thing to have replaced them. Total time to replace them was about 2 1/2 hours.
Later in the day I was able to take her out for a test drive and she ran smooth as silk. Sorry for the long and basically meaningless post but I just thought I tell someone.
As a side note, there is a down side to having the Vette up on the lift all the time....it's not a easy to get it out and take it for short little drives.