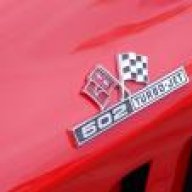 Joined

May 28, 2004
Messages

2,410
Location
Corvette

65 BB 502 Cp /MSD ATOMIC EFI/ 2009-HUMMER H2
Just came in fron the gee-rage after doing some minor things to the 65. I was nosen around checking stuf. I had the motor running and my neighboor came over to listen to the Lump Lump didy Lump Lump from the 502. I was checking under the hood looking for leaks and just generally going over things.
My neighboor being very astute said to me.... Is the Alternator susposed to be shaking around like that?? I look over and realized that the alternator was getting ready to jump off of the lower mount..:ugh .
I quickly shut down the motor. The long lower bolt that holds the alternator on the bracket was getting ready to bail out..!! The rear Lock Washer and Nut had popped of who knows when.
That could have been a mess.... Any way.. If your driving your Vette to Carlisle... Take a good look at the nuts and bolts that hold your ride together...