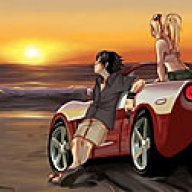 Site Administrator
Staff member
Administrator
Joined

Sep 16, 2000
Messages

13,894
Location
Corvette

1990 Corvette ZR-1
Composite leaf springs: Saving weight in production suspension systems
Fast-reacting resins and speedier processes are making economical volume manufacturing possible.
Author: Karen Wood
Posted on: 2/3/2014
Source: Composites Technology
In the 2014 Corvette Coupe, the leaf spring is always loaded against the subframe, and shock
loads are directed into the side of the frame. In 2014 models with standard suspension packages,
the leaf spring has eliminated the need for a standalone rear antiroll bar. Source | General Motors
Composite leaf springs are not new to the automotive industry. In fact, the leaf spring itself dates back to the horse-drawn carriage. By design, leaf springs absorb vertical vibrations caused by irregularities in the road. Variations in the spring deflection allow potential energy to be stored as strain energy and then released more gradually over time. Composites are well suited for leaf-spring applications due to their high strength-to-weight ratio, fatigue resistance and natural frequency. Internal damping in the composite material leads to better vibration energy absorption within the material, resulting in reduced transmission of vibration noise to neighboring structures.
The biggest benefit, however, is mass reduction: Composite leaf springs are up to five times more durable than a steel spring, so when General Motors (GM, Detroit, Mich.) switched to a glass-reinforced epoxy composite transverse leaf spring (supplied by Liteflex LLC, Englewood, Colo.) on the 1981 Chevrolet Corvette C4, a mono-leaf composite spring, weighing 8 lb/3.7 kg, replaced a ten-leaf steel system that weighed 41 lb/18.6 kg. This reportedly enabled GM to shave 15 kg/33 lb of unsprung weight from the Corvette, yet maintain the same spring rates. The leaf spring was transverse-mounted; that is, it ran across the car's width at each axle. This eliminated the coil springs that sit up high in a spring pocket on the frame. Thus, the car can sit lower to the ground, which improves car handling.
Today, GM continues to employ transverse GFRP composite leaf springs on the front and back of its Corvette models. The 2014 Chevrolet Corvette Coupe includes a double-wishbone suspension, which, at GM, goes by the name short/long arm (SLA). SLA refers to the fact that the upper control arm is shorter than the lower one. A transverse composite leaf spring presses against the lower arm and spans the width of the car. In fact, the spring is always loaded against the subframe. This design directs shock loads into the frame side, eliminating the standalone rear anti-roll bar that must be incorporated into models with standard suspension packages. The spring's camber curve also is said to improve tire contact with the road during cornering.
Full Story:
Composite leaf springs: Saving weight in production suspension systems : CompositesWorld