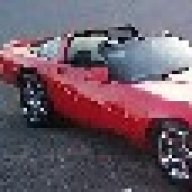 Joined

Dec 11, 2001
Messages

140
Location
Corvette

Red 96 LT4 coupe
I recently ordered the "throttle body coolant bypass" and discovered it to be a waste. #1 it didn't fit right (one side was too large to fit either hose end) #2 the modification didn't require any kit at all. The hose that runs from the area at the top/right of the radiator over to the left side of the throttle body can be routed directly to the metal coolant piping that feeds from the back of the intake manifold to the right side of the throttle body.

A screw- type clamp works to secure the hose to the metal piping alot better than the stock clamp does, but other than that its a free modification. This eliminates hot coolant flowing through your throttle body, which unnecessarily heats up your air.

The original purpose of coolant in your throttle-body is to keep your butterflys from freezing up and sticking, but the throttle body feels enough heat from the intake manifold that this isn't a problem. I performed this mod a week ago, and the coolant is flowing fine, tempuratures are where they should be, and everything is working as it should.

I don't think this mod will give any real performance gain, but every little bit adds up. If I make it to the track again before I do any more mods, I'll post the differences.