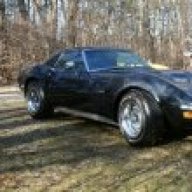 Joined

Nov 2, 2007
Messages

441
Location
Corvette

1972 LS5 Convertible PS, PB, A/C
A bit of a story, so bear with me.

My 1970 L46 (350/250) came from the factory with 11:1 compression. The previous owner swapped all the internal parts for correct 1970 LT-1 parts when he had it rebuilt. During the rebuilt, the engine was bored .030 over, and he put in TRW forged pistons that maintain the correct 11:1 mechanical ration. He did however have the intake and exhaust valves clearanced to provide better air flow (so the theory goes), so i'm guessing the dynamic compression would be a bit less than stock due to more volume in the chamber. He ran the car on premium pump gas (i'm guessing 93) for years without having any issues with an initial timing of 12 degrees (or so he claimed).

After purchasing the car, and learning/liking to drive it harder and harder. I noticed a noise (like something was loose) in the engine compartment when I'd get on in under load while already moving. Like trying to pass someone on the highway. The engine would dog slightly. . .and there would be this sound (I wouldn't call it a "ping") but a sound like something was loose in the exhaust in the engine compartment. This would only happen on really hot days (over 90 degrees) and after I've been driving for a few hours.

Eventually, I burned out the exhaust valves and had to get them replaced with hardened valve seats. (BTW: lead substitutes did nothing for my engine. . .and I was religious about it). The heads were milled (I have no idea by how much. . .because the machine shop forgot to write it down) and I put a stock .041 gasket in place. . .and went about driving the car again. Noticed however that this time the noise was happening seemingly more often. . .and didn't need as much RPM or loading the car for it to occur. Since no one I know has ever heard detonation. . .hard to get a second opinion.

So I reduced the timing advance to 10 on some advice. . .but not sure if it made much difference. . .I cannot remember.

Then one of my rockers failed, and I replace all my rockers with Comp Cams Magnum roller tip rockers which are said to get .040 of more lift because they don't flex like stock stamped rockers. Almost immediately I noticed that the noise now occurs whenever I get above 3500 RPM under hard acceleration. . .and every time it get on it while already moving. Needless to say, when it happens I immediately take my foot off the gas. I'm guessing this is because there is more air fuel to be compressed with the new rocker lift.

I do not notice any loss of power. . .or anything other than this noise.

I've noticed that all of the old school guys who would be able to identify this noise, who have been working in shops for years. . .are almost completely def. . .and cannot hear the noise I hear. . .so I'm on my own on this one.

So yesterday. . .I took the car out and confirmed that it was making the noise as I drove out of my way to a gas station that sells 100 octane race fuel (sonoco GT 100). I had just shy of 4 gallons of space in my tank. . .so I topped it off with 100. By my calculation (using online mix calculators) I had 16 gallons of 93, and 4 of 100. . .with a mixed octane rating of 94.4.

I drove the car for about five minutes to make sure I had the now mixed fuel in my carb. . .and I got on it. Surprisingly I could not get the car to make the noise unless under load and VERY high RPM's, just shy of read line. So the situation got better.

So I now believe this to be detonation of some type. . .and figure I must be close to the bear minimum octane rating for my car to work I figure 95 or 96 would be great. The problem is this race fuel is WAY too expensive at $8 a gallon.

As such, I would like to know if there is something I can to do improve the situation without dumping more money into fuel all the time.

I've read that move from .041 to .060 head gaskets can lower the compression by 1/4 point. Would that be enough to run on 93?

I know that I can switch back to stock rockers. . .but I spent so damn much on this comp cam ones. ..it just don't really want to throw that money spent down the drain. . .if I can help it. So I'm looking at other alternatives.

I'm still trying to understand why retarding the timing more might help. . .as everything I have read suggests that detonation is something that happens after spark occurs. . . usually by another source. . .etc. ..etc. .

Advice? Input? Options?

Thanks in advance!