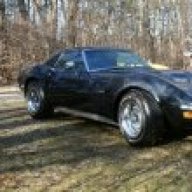 Joined

Nov 2, 2007
Messages

441
Location
Corvette

1972 LS5 Convertible PS, PB, A/C
You also need to map the advance curve so you know:

1. Initial timing (vacuum advance disconnected and plugged).

2. Centrifugal advance (when it starts, how much is max, and at what rpm that occurs), also with the vacuum advance disconnected and plugged.

3. Is the vacuum advance working properly (how much advance is it adding, and at what level of manifold vacuum), and what is your manifold vacuum at normal idle.

This is all basic tune-up stuff, and you need a dial-back timing light and a vacuum gauge to check it out, which you need anyway to maintain a 40-year-old car. I wouldn't spend a dime on head gaskets or pulling cylinder heads or any other internal parts until you understand what you're dealing with. The Comp rocker arms don't have anything to do with it, and you didn't need them anyway.
Inital timing, with the vacuumed advance off and plugged, with dial back timing light was set to 12 degrees when I first bought the car. After valve job, and noticing the problem I retarded it to 10 then 08.
I have to recheck the vaccume, but I think it was slightly lower than a normal l46 engine. Like 15. When I was looking at he rough idle issue, way back when, the vaccume needle was bouncing arround, which lead me to the compression and then the leak down test. After the valve job, I did recheck the vaccume and it was rock steady.
Yeah I know, I got suckered into the extra 15 hp hype with those comp cams.