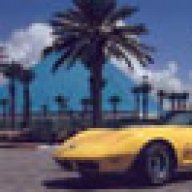 Joined

Aug 26, 2003
Messages

3,486
Location
Corvette

1973 Coupe
At the risk of setting off a hijack bomb and diversion of topic at hand, please bear with me. No one else thinks that having 26.5 advance at idle is weird? So between idle and 3,000 rpm only a maximum of 9.5 degrees would be applied?

Bolisk, what was the timing at 3,000 rpm?
Sounds acceptable to me. 12* initial, no mechanical advance + full (14*) vacuum= 26*. The mechanical should add another 20 or so as revs increase, but vacuum would have less and less effect as the carb is opened up.
I've heard of a case recently where a guy was running just under 50* at cruise on the highway. High revs + small throttle opening.