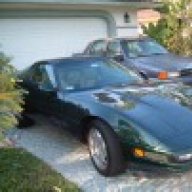 Joined

Apr 6, 2005
Messages

96
Location
Corvette

1994 Polo Green Coupe
My 94 is a six speed with 98k and a DD. I've never really 'punched it', but have recently driven past two drap strips.

I'm wondering:

1) How safe is it for the car to really push the tac up to the 4-5K, redline range?

2) I've spoken to some folks who say start shifting at 4.5K because that means you'll actually shift by 5.5K

3) How do I handle the gas peddle? i.e. do I 'slam' it down to the floor, do I take a 1, 2 count to get it to the floor.

4) Should ASR be off?

I'll probably do this a few times just to get the feel of, not till I break my first rod, (been there, done that with a 4 cylinder Mopar, poor car died and was junked, not worth fixing).

Thanks for the input, any and all opinions/advice are welcome.