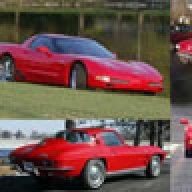 Joined

Oct 11, 2003
Messages

1,895
Location
Corvette

15 Z06, 01 Vert, 63 SWC & 60 ALL RED
got this in my EBay email account. I rad all the time about people getting scammed. Here are some guidelines that EBay sent out to people. For those that did not read it nor get it, these are all good ones to use.
Herb
Below are important safety tips that can help keep your accounts and personal information more secure and help guard against fraud, including
spoof (also called phishing) emails and websites
, and fake second chance offers.
Never pay with Western Union or Money Gram. eBay strongly encourages its members to avoid using instant cash wire transfer services such as Western Union or MoneyGram. It's against eBay's Safe Payments Policy for a seller to request payment via these methods as they've proven to be unsafe when paying someone the buyer doesn't know.
Check My Messages to verify the authenticity of eBay emails. Any email eBay sends you about your account or requesting personal information will also be in My Messages. Before responding to an eBay email asking for information about your account or requesting personal information, verify it's authentic by checking My Messages. If it's not in My Messages, it's a fake email. If you receive a suspicious email that looks like it's from eBay or PayPal, please forward it to

spoof@ebay.com

or

spoof@paypal.com

. We will respond (usually within minutes) to tell you whether or not the email is authentic.
Always verify Second Chance Offers. Sending fake Second Chance Offers is a common trick used by fraudsters. If you receive an email with a Second Chance Offer for an item you recently bid on, please check your My Messages inbox (located in My eBay) on the eBay site to make sure the offer is authentic. If it appears in My Messages with the title "eBay Second Chance Offer for Item...," it's authentic. If the Second Chance Offer does not appear in My Messages, or appears with a different title, it is not legitimate and should be ignored. Help us fight this, by reporting these fakes to spoof@ebay.com.
Download eBay Toolbar and PayPal SafetyBar.

eBay Toolbar

includes Account Guard which indicates when you are on a legitimate eBay or PayPal site, and alerts you when you are on a known fraudulent site.

PayPal's SafetyBar

detects fraudulent emails in your email program and puts them in the spam folder.
Monitor your account regularly for suspicious activity. Prevent problems by staying alert and catching any suspicious activity early. We recommend that you log into your eBay and PayPal accounts frequently to ensure that all the transactions listed are legitimate.
Be suspicious of any email that requests personal information. Be cautious of other emails that request you to click a link and submit your financial or personal information. If in doubt, call or contact the institution first to verify the authenticity of the email. Do not click on any links in this type of email if you cannot verify it is authentic. Only enter your financial information on secure Web sites. Check that a Web site is secure by looking for the closed lock symbol near the bottom of your browser window. And, of course, use a payment method such as PayPal, which lets you pay without sharing your financial information with the person receiving your money. PayPal also covers you 100% against unauthorized money sent from your account.