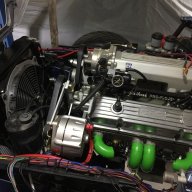 Joined

Dec 19, 2010
Messages

189
Location
Corvette

1984 Two-tone Blue Coupe
Hi Guys,
I have a slightly damaged rear Y-pipe section (near the spare tyre holder) and am thinking about replacing the original exhaust when I drop the gearbox and diff.
I have been looking at the Walker products, but I need something to eliminate the catalytic converter.
I Australia, catalytic converters are only required from 1985 onwards, so the cat in the 84 is coming out.
For a couple of grand, I could get someone here in Australia to build a new system, but I am looking at either a dual chambered system or the Walker products less the cat.
Is there a cat eliminator for the Walker system?
Front Y Pipe - 40449
Cat - 15618
Rear Y Pip - 40305
Mufflers x 2 - 22324
I must admit that the 22324 mufflers look lame though.
I have also ben looking at the following on eBay:
Item 151131856733
Item 381077698797
Any thoughts?

Tony
Last edited: