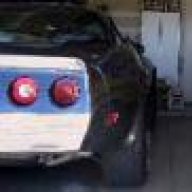 Joined

Apr 29, 2001
Messages

2,141
Location
Corvette

1981 HD Suspension; ZN1 Option
Ok folks,

While on the way to Cruise Fest, I experienced an over-heating condition. A new radiator cap fixed that problem. Then, while driving to the Car Show, I noticed the oil pressure drop to about 40 PSI (I have a high-flow oil pump in the motor), so that turned-out to be that the oil filler cap for the engine was leaking.

While driving home and just reaching Pecos, New Mexico (north of Santa Fe), the Vette started to stall out. It felt like it was missing really bad, so I took an exit, and at a gas station, I started to investigate. So what I saw puzzled me, for I have not seen that before. I had fuel spurting from the tube that connects the vapor cannister on the driver side of the air filter assembly (L81 assembly that holds the air filter element). The fuel spurted at the tube end near the carburetor throat.

An on looker who told me owns a Corvette, suggested I remove the gas tank cap, for it was pretty warm then (around 96 Deg F.). I didn't feel any back pressure while removing the cap, but the fuel did not squirt into the carb after I did that and started the engine.

So to be safe, I closed shut the hose in question with a pair of needle nose Vise Grip pliers, and resumed the drive home. I left the tank cap loosely in the tank fuel port. The temperature reached approximately 99 Deg F while driving between Santa Fe and Rio Rancho, but the engine did not stall any more.

The shop manual says that the fuel filler cap has safety relief valve, but when I force air on the cap from the threaded end, I feel constant resistance.

Is there a way to test the gas tank cap?