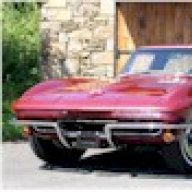 Joined

Apr 2, 2004
Messages

4,611
Location
Corvette

1965 Coupe L76 / 1978 L82
The last car event for me this season will be on Sunday Oct. 29th.
Our club always holds a Fall Vette exhibition display inside one of the local shopping malls so we will probably take both cars, the '65 and the '78.
after that the cars will be put back in the garage and most likely that will be it for the winter - it will be storage time or more appropiately winter project time.
I have a lot of things to take car of on both cars this winter but with my new job my time is now going to be severly curtailed compared to last winter but hey, I have all winter long.
Some of the projects are new, some will be things to correct that I didn't do just right or as good as I had hoped last winter.
On the '65 I know I need to:
1. take off the intake manifold again and replace the gasket as the one I instralled last winter has the crossover ports blocked off and i do not like how it affected the sound of the exhaust at all so new gaskets will go on with the crossover ports open again.
2. I'm STILL trying to track down that stubborn high RPM missing I only get over 4,000rpm with the top distributor cover installed. I have a few ideas from John Lolli to try to solve that issue.
3. on the interior I need to find and eliminate a lot of squeaks and rattles I get and I'm thinking about maybe adding some sound damping material such as dynmat to the inside surfaces of the interior molding panels to help eliminate some of that noise unless you guys have other suggestions. Also work on still getting rid of some shifter rattle as per JohnZ's recommended method.
4. If I get the extra funds and really get motivated I may also pull the original tranny out and get that rebuilt as it likes to jump out of 2nd gear if I get on it hard.
5. redo the valve covers again since they somehow got spots on them that will not clean off using anything so I guess I'll need to put them back in the media blasting cabinet to clean them up.
6. a few other minor things.
7. install the A/C system finally if I have the funds??!!
on the '78 I have LOT's of things to take car of:
1. determine if the puff of exhaust smoke I get on start-up is only valveguide seals or the valve guides themselves. I'm hoping it's only the seals so I can do it myself. If it's the actual guides I guess I'll have to pull the heads and send them out.
2. fan still at times hits the shroud so need to work on that issue
3. some interior work (i'm DREADING that on the C3!!)
4. thinking of doing a carpet replacement
5. need to have the power antenna rebuilt or replaced and also replace the antenna cable
6. a bunch of other little things
d*nm, I'm already exhausted just thinking about this list!
hmmmm, sell both cars and buy a new C6 and not worry about trying to maintain 2 old cars??
As much as Linda would LOVE that......NAH, I can't ever sell the '65. It just won't happen!

: