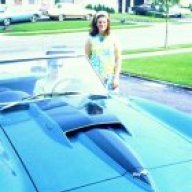 Joined

Sep 17, 2016
Messages

4
Location
Hello everyone!

After almost 50 years, I'm looking to buy my second Corvette!
As a teenager in the early 60's, watching Route 66 with my family, when the show introduced the 63 Stingray, I knew then and there that I was going to have one some day! I just absolutely fell in love with the car!
1966 came along and for my HS graduation, my grandmother gave me an unexpected gift! A check for $5,000 that I could use for whatever I wanted. I was already driving, and my first car on the road was a 58 Chevy Impala convertible.

But that check was burning a hole in my pocket, so I went down to the local Chevy dealer and picked up a 67 catalog! I spent quite a bit of time putting the car together of my dreams with in the $5K budget that I had. My father went back to the dealer with me, and we ordered the car. The salesman almost fell off his seat when I handed him the check. It took over 2 months to get!

The car was a roadster with 427/390, factory A/C, Muncie 4sp close ratio, Off road exhaust, matching hardtop, Marina blue exterior, black interior, and a black soft top.

Sorry I didn't keep it. I sold it about a year later to buy a 68 GTO convertible.

So today, I'm retired, driving a Chevy Silverado 2500HD PU, and living in what's known as the rust belt or the NE for the last 20 years. Finally, selling the house and moving down to the Sunshine State, and what better place, but to have a nice roadster once again!

I've been reading and catching up on what's available today in the used market that's in my price range, and really like the C6, so that's what I have my sights on.

BTW, my avatar is one of the few photos I have of my 67 Vette taken during the summer of 67 with 2 friends!