Joined

Feb 20, 2016
Messages

64
Location
Corvette

1995 Red Corvette (C4, L98)
In ECKLER'S 2015 Paper Catalog, Page 127, ONLINE STK. # 25-122166 Wheel Spinners,I found Wheel Spinner Kits for 1984-1987 Corvette STOCK SALAD SHOOTER aluminum wheels. You can also purchase optional "Cones" to cover the lug nuts and emblems for the centers of the Spinners. They're quite Unique and look well made, form and function. I've never seen them, live, or in photos anywhere.
If you go to their web site, you'll have to use the Search, and punch in the Stock Numbers.
25-122166 Spinners
25-122167 Cones
25-110306 Emblem, Black
25-110305 Emblem, Red
Approximately $185 + Shipping + TAX. I believe it to be a Neat Unique look for the stock wheels, especially if your budget doesn't allow for fancy expensive wheels. For example, I found a nice set of Chrome wheels 16x8.5 that would fit my Brand New Tires which I didn't want to have to replace, and I like the 16 inch factory size of my wheels. Each beautiful chrome rim alone cost $299 plus shipping. I also found a set of Chrome Plated refurbished stock wheels for $800 + everythingelse and a $600 core charge (you have to pay for shipping your wheels back to Eckler's $$$). 16x8.5 rims seem to be a rarity as well... AND then there's mounting, balancing, valve stems, disposal fees, more taxes, etc... well over $1000 ($One Thousand) Dollars!
Additionally, I saw a YouTube, made by a professional mechanic guy, from one of those popular automotive magazines (the name escapes me at the moment) not some wannabe mechanic reviewer dude, where he shows examples, parts and all, before and after, how heavier wheels wear out the suspension components much quicker than the stock rims. Those early "Salad Shooter" (what's a salad shooter?) wheels were designed to "shoot" air to the disc brake rotors to keep them cool. I kinda like that. I like the look of the size of my tires and they also seem fat and tall enough for me. I need to have my Vette as low as possible. I can't bend and reach very well due 13 spine fusions. Just one of the reasons why I like the Vette. I could practically give it a tune up while sitting in a chair. I just find the stock rims to be a bit boring.
I'd like to know if anybody has ever seen these Spinner Kits in use. Your opinion about how they look. Generally, what do you think of them, pros and cons, etc.
I would greatly appreciate your time to respond to this inquiry/post.
Best Regards, and Good Health,

John

Example of Stock Wheels (photo from Ebay, not my car)
Spinner KIt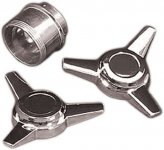 Cone Kit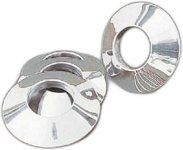 Emblems, Red
Last edited: