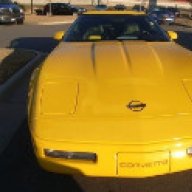 Joined

Feb 19, 2015
Messages

32
Location
Corvette

1996 LT4
Here is how I ended up with my LT4. I work in the oilfield. The company I work for has gone safety ballistic. I have had a company truck for 8 of the nine years I work for them. My company truck is a 2015 Ford F250 CNG Super Duty. Due to the recent drop in natural gas and oil prices they they are cutting coners everywhere. They recently bought a large intrest in a play in West Viginia and have been talking about sending a large portion of our fleet there, and since I primarily work in a field office now my truck is more than likely on the list to go. With that taken into consideration, and some of the things they are handing down will happen I decided time to buy a car to drive to work.So I started looking at used cars to drive back, and forth when I didn't fill like riding a Harley, or it was raining and I didn't want to show up for work wet. I was thinking I could pick something up for 3k to 4k that would work for the 30 minute commute. The reality I found is that up to the 7000 - 8000 price range I was looking at something with 140,000 plus mile on it. To get under 100,000 miles I was looking at least 9k. To get under 90,000 was going to be 12k plus, and be something I wouldn't want to be caught dead in.

I happened to log on to the dealer's website where I bought my wife's GMC 2500 a couple of years ago for her for Christmas, and my company buys it's trucks from. I did one of those used searches low to high price, and here thay came all those compact cars you buy for a kid. I was scrolling down the page and there it was for 10900. It has 80k on it but has been taken care of very well. I went down to look at it and take it for a test drive at which point I got to see the carfax which was good.

The first thing I noticed was the rear tires were low which I mentioned to the salesman that was working with us. He blew it off. That came back to bite him the next day. We haggled and worked the deal during which I told him several times to get the air in those tires. It didn't happen. The guy was a jerk and couldn't even manage to put the temp tag on the car. My wife endded up getting pissed off at him and pulling the front plate off her truck she used the hardwear, and put the tag on herself. So I sign the dotted line and we go home.

That night temps got down in the low teens which doesn't do anything to help low tire preassure. The next morning I was up at 5:00 and on the road by 5:30. Yes I was in the vette. My intention was to get to work, take it to our mobile shop, and add air to the tires. What happened is that at about the halfway point to the yard one of the tires gave up the ghost. That happened just before 6am. I had to sit there ontil 8 when the dealer opened because I wasn't going to pay one dime to fix the situation. They sent a flatbed wrecker and picked up the car. It showed up at 10:30 by which time the e flashers had run the battery down and the car wouldn't start and I was getting colder and madder by the minute. When all was said and done my wife picked me up, and we followed the wrecker to the dealer which they payed for the wrecker. Due to the fact I do business with them, my company does bysiness with them, and alot of our employees have bought from them they were more than willing to fix the issuse. So they ordered new rear tires. It is gettine a new battery, and an issue that was suppose to be fixed with the parking break is going to be taken care of. So tomorrow I will be taken the 45minute ride with my wife down there to pick up my vette again.
Last edited: