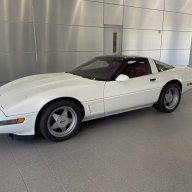 Joined

Dec 6, 2000
Messages

1,292
Location
Corvette

'90 ZR-1 #3010
It has been quite some time that I've been on here but looking forward to being on on here more often, now that I finally.... after 17+ yrs (it was supposed to be 2 or 3) got another Corvette! The quick story is this... I owned a '90 ZR-1, Red on Black #365 about 20yrs ago. My Dad ended up acquiring that car about 17 or 18yrs ago but has since sold it. While he owned that car, he bought another '90 ZR-1 - White on Red #3010, this one with a lot of modifications in which I just acquired from my Dad 5 days ago.
Long story short, it's an odd but great feeling to have another ZR-1! In the words of George Costanza... "I'm back baby!"

I'll post up a few pics when I get it all cleaned up.
p.s.... Rob, the site looks awesome by the way! Amazing job!
- Jay