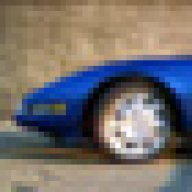 Joined

Nov 15, 2002
Messages

585
Location
Corvette

1993 Medium Quasar Blue Metallic Coupe
Although I have a 93 Med. Quazar Blue coupe, I have developed an obsession in wanting a Nassau Blue convertible.
I wish the Vette powers that be would bring this color back. It ran from 98-2001. Most -for sale- NB Vettes I've researched are heading towards high mileage.
I'm currently looking at the 3 NB C5 'verts below. And one coupe where I live. The middle one, a 98 and right one, an '00, have low miles---mid twenties. Both reasonably priced in the high 20s.
But I'm also toying with the idea of a white C6 with a white or grey top with grey interior and just having the exterior painted Nassau Blue. The current NB C5s are RARE, therefore perhaps collectible. But who wants that? I don't have a museum. I'm driving it!!! A re-painted C6 depreciates, but who cares--right?
By the way, I'm talking non-Z06 here. I ask myself--why have 380-some horses w/ a C5 when I can start out with 400 in a C6? BUT..., with a C5 I could spend and upgrade and mod past 400hp. BUT! I could have 400hp w/ a C6, spend and mod and surpass whatever expectations I'd've had with a C5. Can we say supercharger? Either way, it's dollars, dollars, dollars.
Am I crazy? Or Just Vette crazy?
I've given myself a headache.

​
​
​