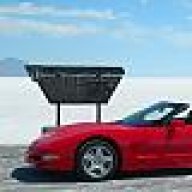 Joined

Jul 20, 2006
Messages

252
Location
Corvette

1998 Torch Red Convertible
I had to take The Baby in for what turned out to be a minor repair (shifter sticking in park). I should explain that I did NOT buy the Vette from the local Chevy dealer, but I did buy an extended warranty and the dealer where I bought it sends me to the Chevy dealership to get the repairs done - apparently they think the Chevy guys know something they don't.
So, anyhoo - I get the car back and first of all they treated me like I didn't have a problem to begin with (even though they charged for 2 hours of labor to fix the non-problem), and when I questioned the bill that said "checked, no problem works fine", they got all huffy. They assured me that "minor adjustments" were made and everything was working fine. WhatEVER. At least the shifter isn't sticking anymore...but in the course of their "minor adjustment" (or was it a non-problem? I'm confused!) they minorly adjusted the door to the cigarette lighter/ashtray compartment so it's all wonky now and doesn't close right.
Mr. Pinky, in his attempt to calm the waters, said he'd fix it. I say I should take it back and make THEM fix it. I'll admit I'm p*ssed at being treated poorly, but then again I'm not their customer. What do YOU think? Take it back or let it go?
Signed,
A Woman Scorned

ad